Here at Juva Delivery, 'knowing more feels better' is a core belief. We realized we know some pretty amazing people that are behind the incredible brands we carry.  We wanted to virtually introduce you to the people behind your favorite products, and give them space to share some of their knowledge with you.
Jetty Extracts is a California cannabis extract company that started in 2013 when the state was still medical-use only. Even before the transition to recreational use (which mandated lab testing for safety), Jetty knew that producing clean vapes was the number one priority.  They don't cut corners, and won't compromise their products or values. This is exactly why we wanted to do a virtual interview – and see what we can learn.
What is a typical day like at Jetty since the shelter in place orders started?   
Since the Shelter in place started we have taken even stricter measures to keep our employees and customers safe. The biggest difference is less people at Jetty. If you don't need to be at HQ, you don't come in. That's a huge bummer since all the people are one of the reasons we love coming to work. In the lab, our packaging crew is staying 6ft away at all times, and masks all around is the new normal. That makes it impossible to have the after-work smoke sessions to R&D our new oils. It all boils down to being as safe as we possibly can.     
-Nate, Jetty Co-Founder/Production    
What is the most innovative product to come out of Jetty?
That depends on when you ask us. We are always innovating. A few years ago it was the strides we made developing our cannabis-derived terpene method for our Gold line. Last year it was isolating minor cannabinoids like THC-V and Delta 8. We currently are launching our UNREFINED Live Resin that we are stoked about. Behind the scenes, we are R&D'ing a new solventless line that will be released late this year.    
-Nate, Jetty Co-Founder/Production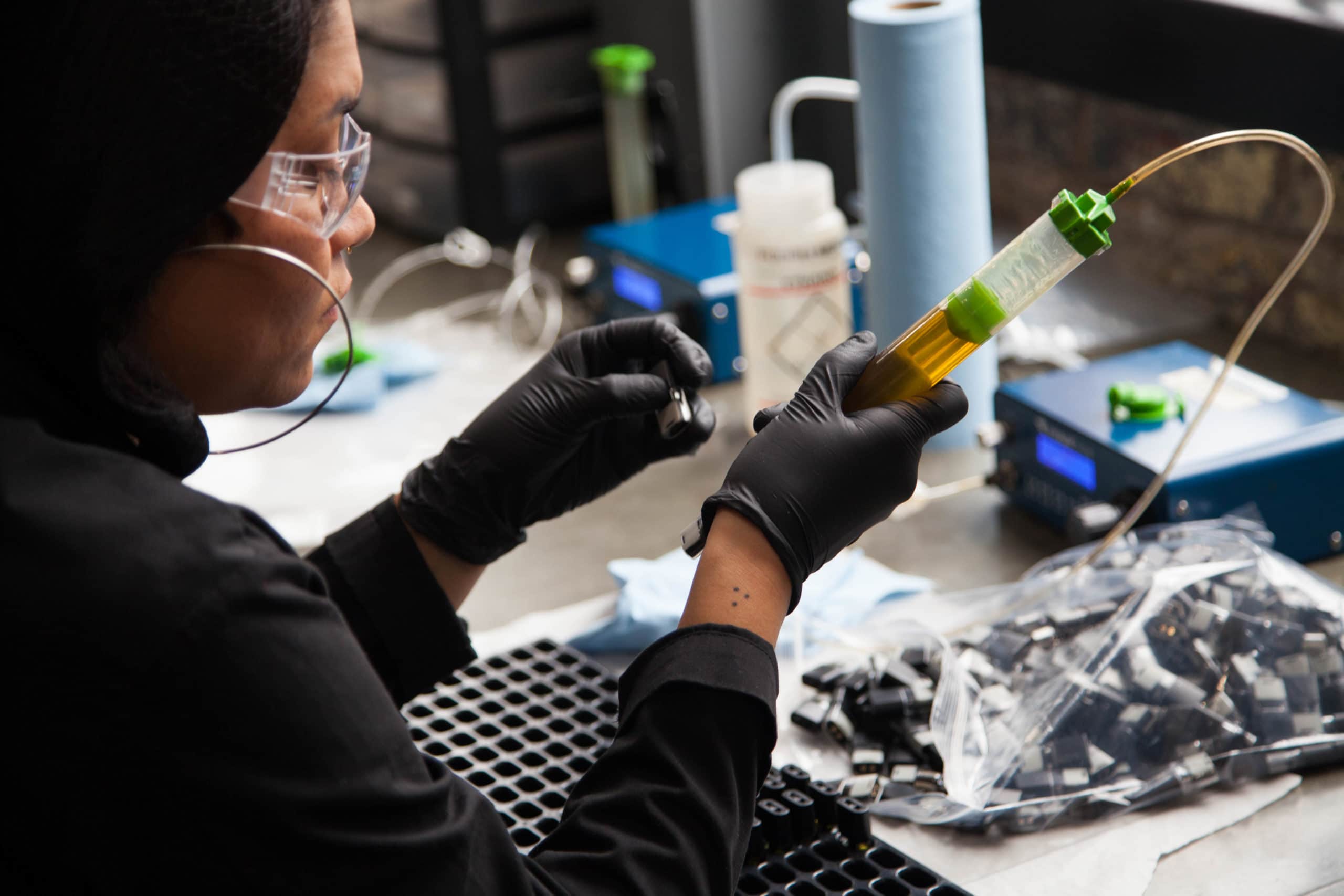 How do you choose the flowers that go into your products?     
The biggest factor for us choosing a cultivation partner is their farming ethics. We prefer to partner with small farmers that have respect for the land, their employees, and growing quality cannabis. Beyond that, it's the strain selection that they are best at growing.  Some farmers grow legacy strains and some exotics. We like to have a little of everything in our lineup, so that helps us make decisions on the cannabis we bring in.    
-Nate, Jetty Co-Founder/Production   
What are you most proud of at Jetty?     
I've been with Jetty for about five years now and have seen massive changes in the industry and in the company – from a time when we communicated in code pre-legalization to a time that allows us to share our stories in publications such as this one. To me the most impressive and consistent thing about Jetty Extracts is that no matter what, Jetty does things the right way, leading in product innovation. We act out of genuine care and started one of the largest cancer compassion programs in the state, the Shelter Project. All the while, Jetty has managed to maintain an ethical dedication to the environment and to our communities. Jetty is more than an extraction company. Jetty is a force for good in the cannabis community.  
-Katie, Jetty Sales   
What does Jetty do to make the world a better place?   
The cannabis community and all of the communities we are part of mean everything to us. We do all that we can to keep this great big family safe and supported. It's why we started the Shelter Project back in 2014, providing free products to cancer patients (over  $1 million so far and counting). It's also why we've been testing our products for years — long before testing was even required.  It's the reason we do things like our Fire Relief PAX Pod, with 100% of proceeds going to  California wildfire victims, and years of supporting Pride and LGBTQ+ causes.  We also do everything we can to be environmentally responsible, leaving the smallest footprint possible, from packaging to production. Regulations can make all of this a  huge challenge, but we're committed to it!   
-Jonathan, Jetty Marketing 
What is your favorite live resin product for a shelter-in-place Friday night and why?  
All week long, my go-to is one of Jetty's Unrefined Live Resin PAX pods. Its close-to-flower taste and effect are the perfect companion for unwinding after long workdays. But when it's Friday night, it's Diamond time. Our Black Lime and Super Lime Diamonds taste delicious and send me to a fun-filled, giggly space that's perfect for catching up with old friends or chillin' on the couch binge-watching the flavour du jour.   
-​Katie, Jetty Sales