COVID-19 has thrown a wrench in most public gatherings, and Halloween celebrations are just another thing that need to be retooled. That doesn't mean that you can't enjoy some spooky fun though! Whether binging horror movies or a virtual costume dance party are on the agenda, some tasty Halloween edibles will lend your day a spirit of fun. From irresistible chocolates to crunchy cookies and spritely mints, there's no end to the delights you'll be able to cook up on the scariest night of the year. (And as always, make Halloween safe and fun for everyone by keeping all cannabis-infused Halloween edibles well out of the reach of children.)
Halloween Edibles: Rich Chocolates for Relaxation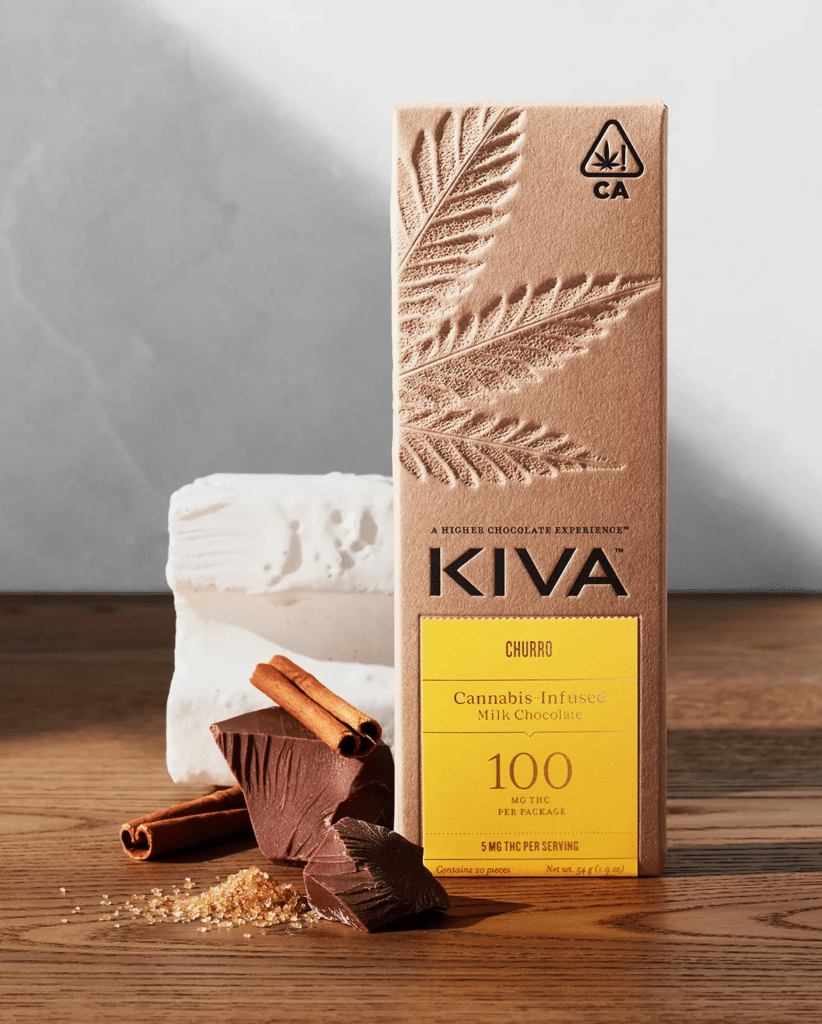 Churro Milk Chocolate Bar, Kiva
With a dusting of fine cinnamon sugar, this cannabis-infused treat really tastes like a golden fried churro (perfect for celebrating dia de los Muertos, or Day of the Dead!). In addition to being downright delicious, each little square of this Kiva bar delivers 5mg of THC, processed through the cold-water extraction technique to preserve all the flavorful (and medically active) terpenes. 
Dark Chocolate 5:1 Almonds, Terra
Rich and crunchy, salty, and sweet, each of these all-natural treats delivers a highly useful dose of 5mg CBD and 1mg THC. The low psychoactivity helps sand the edges off residual aches, anxiety, and stress without distracting, while the cold-water extracted hash and sustainably sourced cacao will delight.
Halloween Edibles: Buttery Cookies and Snacky Crackers
Rosemary Garlic Crackers, Higher
 We're big fans of this family- and women-run operation. Cooking out of Santa Cruz, Higher focuses on delivering potent, delicious, and healthful cannabis-infused treats, and these flavorful gluten-free snacks are no exception. But pace yourself: At 10mg of THC each, one is usually enough to get the party started!  
Molasses Ginger Cookie, Clarified
The heart-warming flavors of molasses, ginger, and organic butter are perfect for the season, while the hefty serving of THC will put a smile on your face any time of the year. Designed to supply a concentrated dose of cannabis, each cookie contains 100mg of THC. Be sure to portion the cookie out beforehand so you don't accidentally overindulge, a real possibility when an edible is as delicious as this!
Halloween Edibles: Mints, Candies, and Gummies
Pineapple Mints, Petra
Another cannabis-infused edible that may seriously challenge your willpower, these tart and fruity little numbers deliver a gentle 2.5mg of THC per serving. They're great for keeping a very low ride going throughout the day or sampling a couple to lift off into a more euphoric nighttime experience. 
Royal Mints, Breez
These adorable little mints match their zingy flavor with a potent 10mg dose of THC. As such, they're designed for more seasoned cannabis users who value the discretion of a tiny candy edible. Popping one of these an hour or two before the Halloween festivities begin should grant you a most enjoyable night of festive surprises.
Luscious Lemon Sativa Nano Gummies, Kanha
Stimulating in every sense of the word, these tart little candies are designed to impart gentle cerebral stimulation and uplift. Kanha's proprietary production technique promises a fast onset time of only 10 – 20 minutes, while the 10mg of THC ensures a potent and memorable experience! 
Get your hands on these treats fast—no tricks. Check out our menu to stock up on Halloween edibles and place your order for speedy delivery. Enter your zip code to get started now!