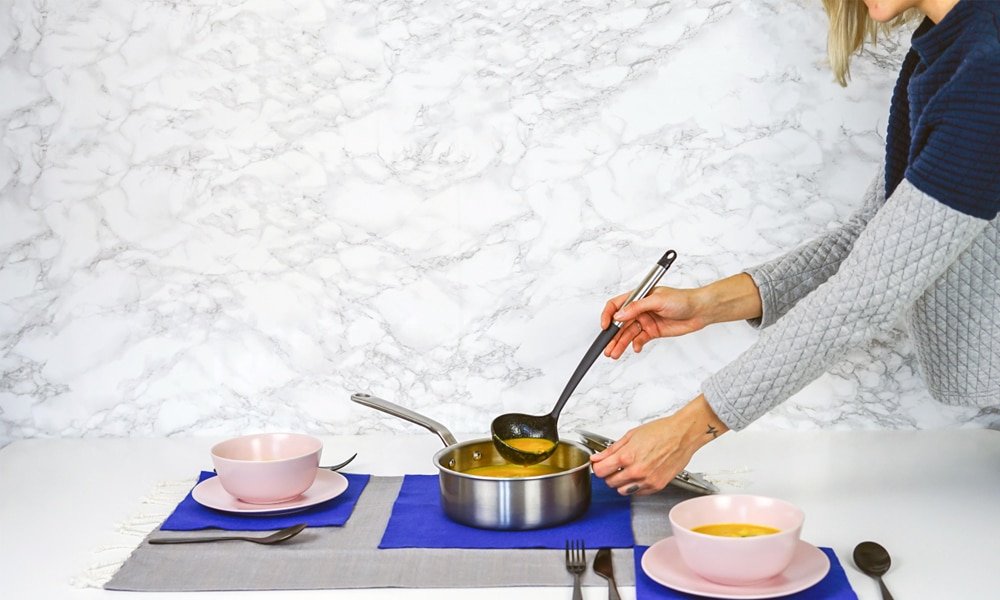 Infusing your favorite dishes can be a fun and manageable way to expand your personal consumption methods. There are all kinds of ways to begin cooking with cannabis. You can incorporate your favorite cannabis products – such as Clarified Ghee Butter and Kikoko Honey – to infuse your favorite food and drinks! Recipes can also be made with homemade cannabis cooking oil or cannabutter, which can be made from any of your favorite cannabis flower. Juva has collected a few recipes to offer ideas and help guide your proportions. 
by Adrienne Allen/Leafly (Can be CBD!)
Recommended Products: Humboldt Apothecary Tincture / Papa and Barkley Tincture
Ingredients
1 ripe banana, sliced
10 ounces fresh or frozen strawberries
½ cup hemp milk (or milk of preference)
1 tsp turmeric
½ to 1 full dropper of tincture (depending on potency/tolerance)
Tip: Pump up the health factor with a cup of kale or spinach to deliver excellent nutrition without sacrificing taste.
Directions
Put ingredients in blender

Blend

Enjoy!
by Sara Dilley/Leafly  (Mocktail)
Recommended Product: Kikoko Honey Shot
Ingredients
1-2 Cups Cider
Honey Stick
Cinnamon Stick
1 Lemon Wedge
Directions
Heat 1-2 cups of hot liquid cider (on the stove or in the microwave) until boiling

Add Honey Stick (up to 10 mg)

Garnish with 1 cinnamon stick, 1 lemon wedge, and serve
by Herb
Recommended Cannabis Product: Clarified Ghee
Ingredients
2 slices whole-grain bread
2 teaspoons cannabutter, at room temperature (note: 1 tsp= 5 mg THC, if you're new to infused foods, you might want to split one teaspoon between 2 pieces of bread)
4 slices ripe tomato (optional)
1 large avocado, peeled, pitted, and sliced
2 teaspoons freshly squeezed lemon juice
Salt
Freshly ground black pepper
Directions
Toast the bread. Spread 1 teaspoon of the cannabutter on each slice.

Place 2 slices of tomato on each piece of toast, if using.

Toss the avocado with the lemon juice and divide the slices between the 2 pieces of toast.

Season with salt and pepper.

Serve warm.

Store the remaining serving in an airtight container in the refrigerator for up to 2 days. Enjoy the second serving chilled or at room temperature.
Recommended: Cannabis Olive Oil
Salad Base 
 1 head red lettuce, chopped
 2 medium carrots, grated
 1 large beet, diced
 1 cup grape tomatoes
 ½ cup fresh dill, chopped
 ½ cup feta cheese, crumbled
 ½ cup salted pumpkin seeds
Dressing Ingredients
 ¾ cup regular olive oil
 2 tbsp canna-olive oil
 ⅓ cup balsamic reduction
 2 tbsp fresh dill, chopped
 salt & pepper
Directions
Mix the olive oil, canna-olive oil, balsamic reduction, fresh dill, salt & pepper together in a small bowl. Set aside.

Wash & prep all of the vegetables. Place into a large salad bowl.

Top with crumbled feta & pumpkin seeds.

Serve into individual bowls & top with dressing.
Recommended Cannabis Product: Clarified Ghee
Chicken Spices
2 lbs boneless, skinless chicken breast, cut into cubes
½ tsp sea salt
½ tsp black pepper, freshly cracked
1 tsp red chili powder
1 tsp turmeric powder
½ cup Greek Yogurt
Cannabis Butter Chicken Sauce
2 tbsp regular butter
4 tbsp cannabutter
1 ½ cups onion, diced
1 tbsp graham masala
1 tsp red chili powder
1 tsp cumin
1 tsp turmeric powder
1 tsp cayenne powder
1 tbsp ginger root, freshly grated
3 cloves garlic, minced
1 cinnamon stick
1 tbsp brown sugar
12 oz can tomato sauce
½ cup water
1 cup heavy cream
sea salt, to taste
black pepper, to taste
long-grain rice, cooked
freshly chopped cilantro, garnish
Chicken Directions
In a large bowl, marinate the chicken with salt, pepper, chili powder, turmeric, and Greek yogurt. Refrigerate for 3 to 4 hours or overnight.

Melt the regular butter in a large pot over medium heat. Brown the chicken for about 2 to 3 minutes, add the marinade then remove from the pot.
Sauce Directions
In the same pot, melt 2 tablespoons of cannabutter over medium heat, add the onion, garam masala, chili powder, cumin, turmeric, cayenne pepper, ginger, garlic, cinnamon, brown sugar, salt, and pepper. Cook until fragrant.

Add tomato sauce and bring to a simmer. Then add water and cream, bring again to a simmer.

Return the chicken to the pot, simmer for another 20 minutes. Stir in the last 2 tablespoons of cannabutter & season with salt & freshly ground pepper.

Spoon the butter chicken over hot rice & garnish with fresh cilantro.

Enjoy!
Cooking With Cannabis Can Elevate Your Dining Experience
Cooking with cannabis is one way to pass the time inside and elevate your meal. Follow the recipes above or simply use a cannabis tincture to infuse your food and drinks. You can count on our friendly cannabis couriers for fast delivery so you can get your cook on.